In a recent tutorial we looked at the process of creating a dramatic portrait effect in Lightroom, and in this tutorial we'll show the process for a similar effect in Photoshop. This is a strong, intense effect that will work well with some portraits, but not all.
I'll be working with this sample photo for the tutorial. You can download the photo at Pixabay if you'd like to follow along. Download the highest resolution available.
And here is a sneak peak at the end result that we'll be creating.
The first step is to open the photo in Photoshop and duplicate the background layer. To do this go to Layer > Duplicate Layer. Now we'll be working with a copy of the original layer so if we mess up we can easily go back to the original. Next, go to Image > Adjustments > Shadows/Highlights and you should see this window.
Click the box for "show more options" and it will open up the full set of options available. We're going to make some adjustments here that will lighten the shadow areas of the photo, but we're not going to do anything with the highlights. I'm using settings:
Amount: 50
Tone: 35
Radius: 45
You can leave all the other settings at their default values.
We've now lightened up the dark areas of the photo.
Next, go to Filter > Sharpen > Unsharp Mask and you should see this screen.
We're going to apply some strong sharpening here because it is a big part of the dramatic effect that we're creating. Enter 100 for the amount and 20 for the radius.
You may want to dial back the settings here based on the photo that you are using and your personal preference. We're working with a high resolution photo, but if you are working with a lower resolution keep in mind that the radius setting is measured in pixels, so it will have an even strong impact on smaller photos. So if you're working with a lower resolution photo you can reduce the radius setting.
Our sharpened photo looks like this.
Next, we'll add a levels adjustment layer. You can do this by clicking on the icon shown below and then selecting "levels".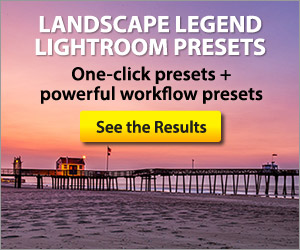 Set the left (black) level to 40, which gives the photo a strong black point that adds some boldness to the photo. Then set the middle (gray) level to 1.20 which will lighten the midtones of the photo.
After those changes the photo looks like this.
Next, add a brightness and contrast adjust layer. You can click on the adjustment layer icon and then select "brightness and contrast". Set the contrast to 50.
This adds a lot of contrast that also helps with adding to the dramatic effect that we're after.
The last step is to add a vibrance adjustment layer. Click on the adjustment layer icon and select "vibrance". Then set vibrance to +20 and saturation to -60.
And now we're done and our photo looks like this.
When you're looking for a strong effect you can follow these steps, and if its is stronger than you want you can adjust the settings to be more conservative.